Adding a carport to your property is an investment that can pay off for years to come. For a modest price, you can create a covered space that will be useful for parking, storage, and much more. But do you know what types of carports are available and which is right for your project? Use this ultimate guide to explore your options!
American Carports, Inc. has a variety of steel carports that are affordable, durable, and fully customizable. Use our Build & Price Tool to explore the many possibilities for your new building, view a 3D rendering, and receive an instant quote!
Carport Roofing
Since a carport's main purpose is to provide shelter from conditions like rain, snow, and even sun, the roof is a hugely important piece of the puzzle. That said, it's important to understand the various roof options available while browsing for carports:
Standard Roofing
As a basic starting point, a standard carport from American Carports, Inc. includes an angled peak and rounded edges. This standard roof shape is perfectly suitable for many uses, such as when you want a carport to provide shelter for one or two of your vehicles. If you're on a tight budget, you'll want to stick with this standard configuration for the roof, as it's the most economical choice.
Custom Roofing
There are a couple of other notable options for your carport roof. For instance, an A-Frame roof design features edges that are angled rather than rounded. An A-Frame roof can have either vertical or horizontal panels, which refers to the direction that the metal roofing runs on the top of the structure:
Horizontal panels. A horizontal roof is what you'll get when you order a standard carport, and you can stick with this style even if you upgrade to an A-Frame. The benefit of a horizontal roof is a lower price tag since less support structure is required to support this style of roof. Shop Now.
Vertical panels. Upgrading your A-Frame roof to a vertical configuration will offer a couple of benefits. This roof style makes for a stronger overall structure. Plus, it also does a better job of shedding rain and snow, especially during heavy storms. You'll pay a bit more for this style of roof, but that investment may be worth it in the long run. Shop Now.
Carports With vs Without Walls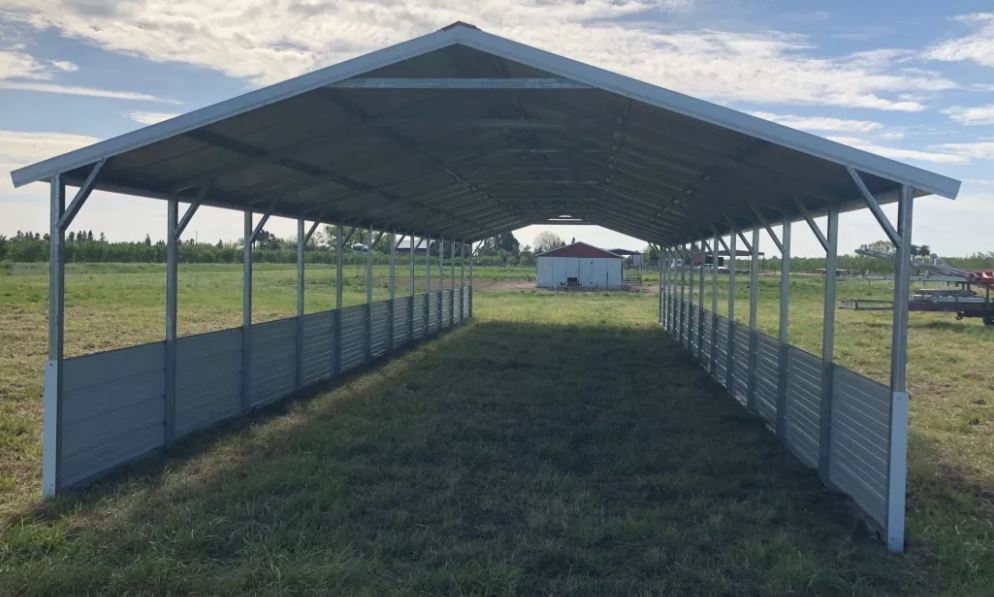 A standard carport does not include walls. The roof of the structure will wrap over the edge and down the sides of the carport slightly, but it will only come down a short distance. For many purposes, an open carport will work nicely. But, if you need more protection from the weather, you can add walls to one or more sides to make the building work even better for your application.
However, it's possible to fully enclose a carport that you order from American Carports, Inc. With the building fully enclosed, it would actually be considered a garage. You can customize this type of building with roll-up doors, windows, and more. The possibilities are endless!
Specialty Carports
We also have a variety of carport designs that are specifically suited for certain tasks:
RV Carport. As the name suggests, this carport is intended for RV parking. It comes with particularly tall sides to accommodate large RVs. Shop Now.
Lean-tos. A lean-to is positioned to stand directly next to another building on your property to provide covered parking and/or storage. Shop Now.
Barns. These open-sided or closed buildings offer a tremendous amount of sheltered space. They may be perfect for parking your agricultural equipment or storing hay throughout the season. Shop Now.
There are many options available when it comes to creating a carport that will meet your needs. Don't assume that carports are nothing more than a place to park a sedan or pickup. They can do that, of course, but they can also serve you in several different ways. By shopping with a reliable supplier like American Carports, Inc., you'll have endless options at your disposal!
Work with American Carports, Inc.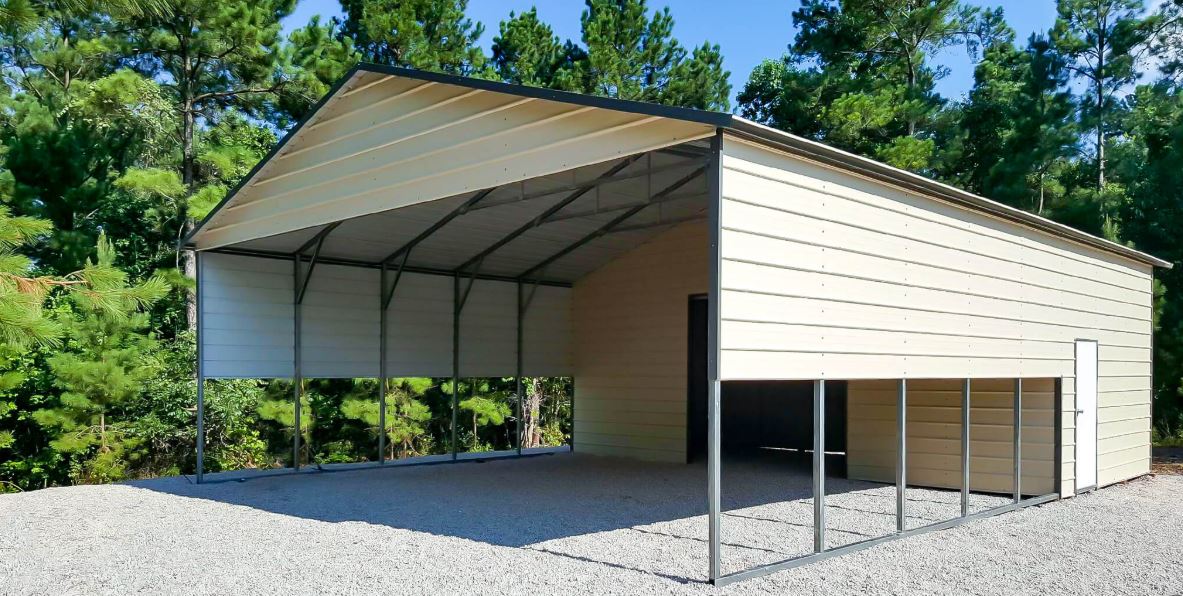 Now that you know the different carport options available, consider purchasing one from American Carports, Inc.! Whether you're looking for a covered structure to park your car or use as additional storage, we have a building that fits any of your needs. Get started with our Build & Price tool discover what's possible for your new building, view a 3D rendering, and receive an instate quote!
https://americancarportsinc.com/wp-content/uploads/2020/12/cp11.jpg
665
1191
clickgiant
https://i1.wp.com/americancarportsinc.com/wp-content/uploads/2020/08/ACI-Logo-Text_s-e1598451183583-300x82.png
clickgiant
2021-02-02 15:05:24
2021-02-02 15:05:43
Types of Carports: The Ultimate Guide