Sometimes in life, it's the simple things that make a big difference. Adding a covered walkway to your property is a great example of how a small upgrade can make life a lot easier. The next time you return home from the grocery store with several bags of food and rain pouring down outside, you will be thankful you chose to create a covered walkway!
At American Carports, Inc., we offer many different types of metal structures. Two are perfect for this kind of project: carports and lean-tos. In this article, we'd like to discuss the basic concept of how to build a covered walkway and how our products can help. To get started designing your own structure for this project, try our Build & Price Tool. Of course, you can always contact us to get help directly from a member of our team.
Plan a Path
When creating a walkway, the best place to start is to determine where your path is going to begin and end. Most likely, on a residential property, the path is going to end at the house—either at the front door or a side entrance. For the start of the path, you will want to pick a location where you can park a vehicle throughout the year. That could be right next to the house, in some situations, or it may be a short distance away.
With a path in mind, you will quickly have some clarity on what kind of structure will be required to cover the walkway. If you are going to be parking right next to your home, a lean-to may be the best bet. To establish a covered location a little further from the house, a carport could be the right solution. By working with American Carports, Inc., you can easily customize your new structure to make sure it fits your space and provides all the coverage you need to come and go without being exposed to the weather.
Preparing the Ground Surface
Covering your walkway from above is a great start on this project, but the job won't be done just yet. It's also a good idea to think about what kind of ground surface you will use for the path, as this is going to play a big role in how comfortable and convenient it is to use each day. Let's look at some popular options:
Bare ground. You could choose to do nothing and just leave the path as bare ground. Over time, you'll wear in a clear pathway by walking back and forth, so it will likely be left as plain dirt in the end. This is obviously the easiest approach, as it requires you to do nothing at all, but there are some notable downsides. For one thing, your shoes will be dirty when you arrive at the house or car. Also, if rain comes down sideways and gets under your covered space, the path could become muddy and create a real mess for you to deal with.
Gravel or crushed rock. This type of surface is a significant upgrade over bare ground for a couple of reasons. Since gravel and crushed rock both work well for drainage, your path is not likely to get as muddy as it would if you just left it alone. You should also find that your shoes are not quite as dirty after walking the path as they would be on the ground, although they may not be perfectly clean, either. To use this option, you may need to purchase some gravel and there will be some labor involved in having it put in place.
Concrete path. By far the most user-friendly option on this list is a concrete walkway. This is a finished surface that won't get muddy and can be kept clean with just an occasional washing with a hose. Also, you could extend the concrete under your parking area, as well, so you would have a solid, flat surface on which to park. The obvious drawback to the concrete path option is cost. You'll need to invest in having the surface prepared and the concrete poured, although that investment may be well worth it in the end, given the significant upgrade that will be achieved.
Everything from bare ground up to a concrete walkway is a viable option for your path, so weigh the pros and cons of each while also considered any special circumstances that influence your project.
Keep It Simple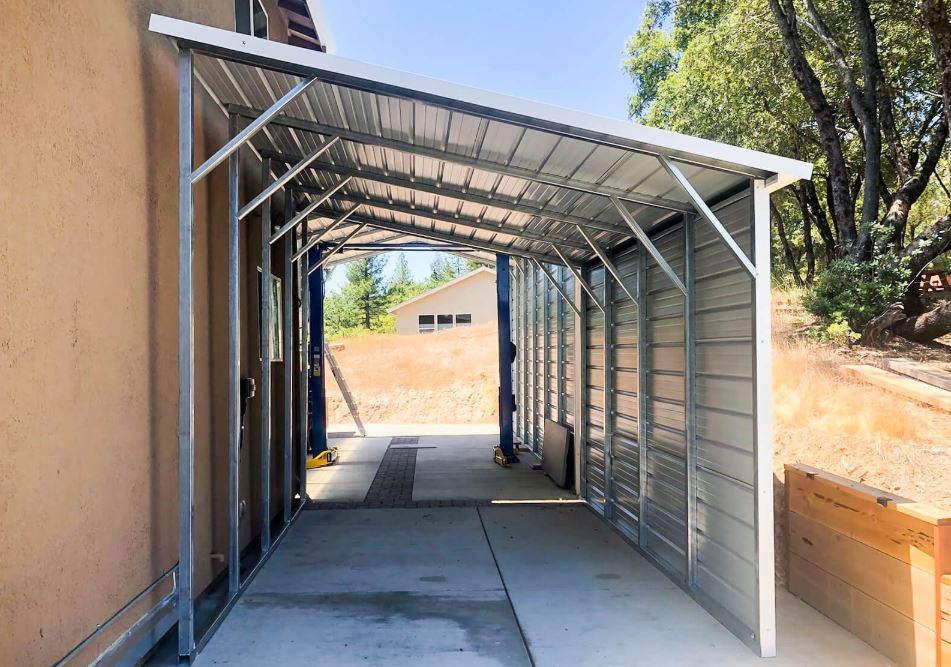 While it might sound challenging to create a new covered walkway on your property, this project can be made pretty simple with a little help from American Carports, Inc. Our structures are affordable, quick to construct, and can be fully customized to suit your needs. Let's get started today!
https://americancarportsinc.com/wp-content/uploads/2021/01/American-Steel-Carports-Inc-Sheds-Lean-To-1-min-845x684-1.jpg
506
845
clickgiant
https://i1.wp.com/americancarportsinc.com/wp-content/uploads/2020/08/ACI-Logo-Text_s-e1598451183583-300x82.png
clickgiant
2021-07-06 16:05:52
2021-07-06 16:05:52
How to Build a Covered Walkway