If you own livestock, it's important to provide those animals with shelter to keep them healthy and protect them away from the harsh outdoor elements. Unfortunately, some types of barns and other shelter structures can be expensive, making it difficult for landowners to afford these buildings.
By choosing a metal livestock barn from American Carports, Inc., you can bring down the cost of this project while still getting a sturdy, long-lasting shelter for your animals. With so many different styles to pick from, the best way to get started is by exploring the Build & Price Tool here on our site. Feel free to contact us if you have questions about our products and the many custom options we offer.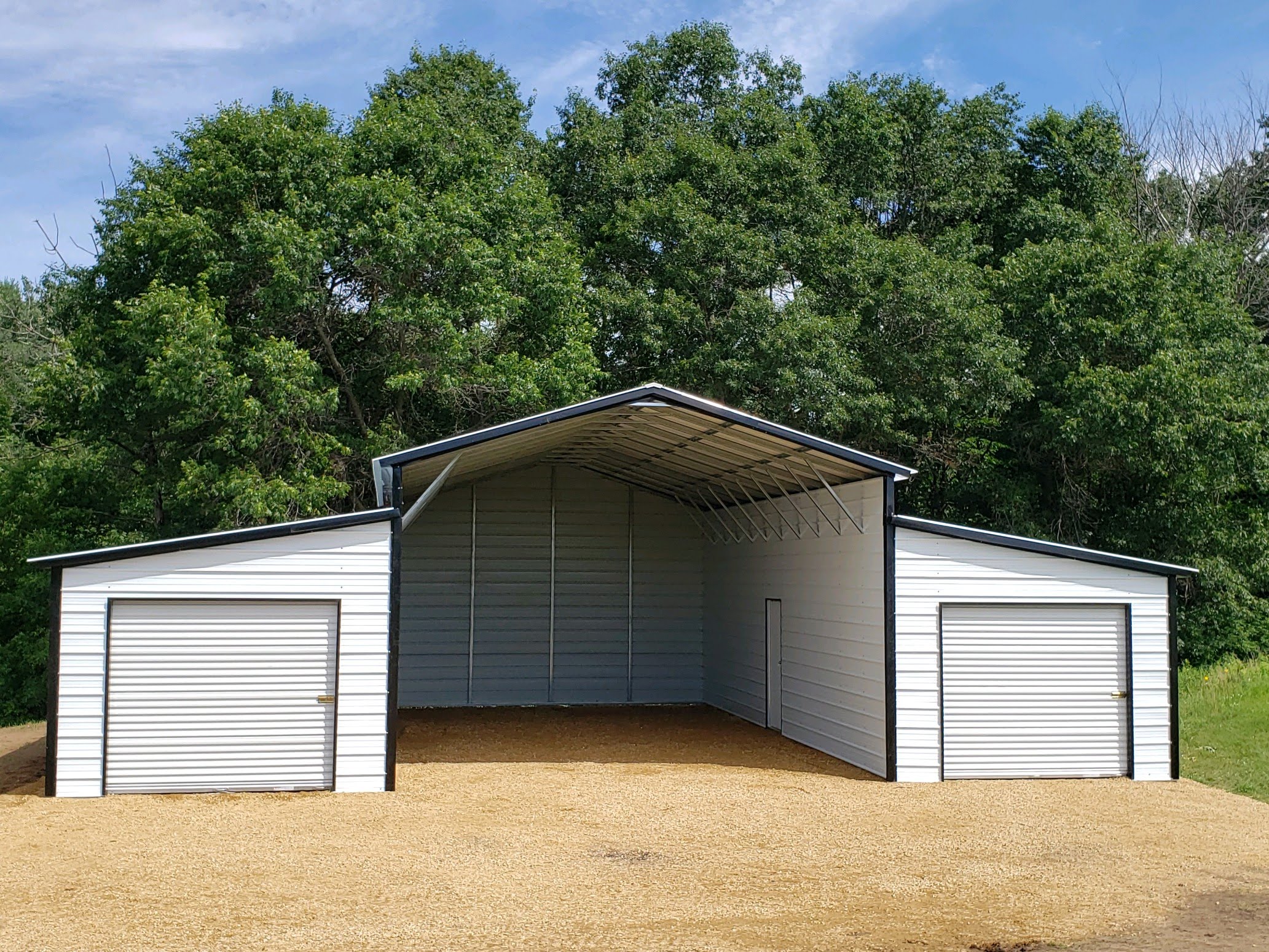 Providing Shade is Key
One of the most important roles of a livestock barn or shelter is simply to provide shade from the hot summer sun. While it's easy to look outside in the cold weather and think that your animals might be uncomfortable, most animals can deal with cold temperatures just fine (with exceptions for extreme cold, of course). However, it can be harder for those same animals to deal with searing hot temperatures in summertime, which is why adding shade to your property is so important.
It's pretty easy to offer animals shade when working with American Carports, Inc. to create a new metal structure. Any kind of structure with a roof is going to offer at least some degree of shade, although some will do better than others. Let's discuss a few key points on this topic:
Not just shade from above. It's important to remember that the sun doesn't only beat down from directly overhead. The sun might be high in the sky during the middle of a summer day, but it will also get to your animals from flatter angles in the morning and evening. Therefore, a building with at least a couple of walls in addition to a roof is going to perform much better as a shade structure than a building with only a roof, such as a carport or lean-to.
Make sure to include ventilation. Shade is great, but if a space is too tightly enclosed in the hot weather, it could end up leading to high interior temperatures that won't serve the animals well in the end. It's important to ensure your livestock barn has plenty of ventilation to keep the air inside fresh and as comfortable as possible for your animals. It's easy to add features like windows and doors when ordering from American Carports, Inc., so you can build ventilation right into your plan.
Easy access. A shade structure is only going to be used for your livestock if it is readily available to them when the hot part of the day arrives. Whether you drive them into the shelter intentionally or just keep it open as an option for them to self-regulation, it's important to position this structure as conveniently as possible on your property.
Simply blocking out the sun from directly beating down on your livestock can go a long way toward keeping them healthy through the summer. This might seem like a simple thing, but it can have a profound effect on their overall well-being.
Building a Partner for Your Barn
If you already have a barn on your property, you may be tempted to just use that for your livestock shelter. In some cases, that could work out just fine. But the barn probably has other uses already, such as storage and a place for some of the animals to sleep at night. Ideally, you'll have a separate shade structure that can be used throughout the day to give animals a break from the heat without interrupting your day-to-day activities inside the main barn.
Of course, if you don't yet have a barn, or you need a new one, American Carports, Inc. can help on that point, as well. Our custom metal barns are affordable and endlessly customizable, making it easy to create the perfect size and shape for your needs. With a barn serving as the focal point of your livestock operation and another shade structure giving your animals a respite from the heat, you'll have the buildings you need to keep the land working nicely for years to come.
A Timely Project
Among the many advantages that are enjoyed when you select a metal livestock shelter over a wooden structure is the short timeline required. In general, a metal barn is going to be constructed much quicker from start to finish than a wooden alternative. That means you can get up and running with this new shelter in short order and give your animals the space they need to thrive.
Place Your Order
Start your order for a custom metal livestock shelter today. We look forward to serving you soon!
https://americancarportsinc.com/wp-content/uploads/2021/06/pexels-kat-jayne-735968.jpg
854
1280
clickgiant
https://i1.wp.com/americancarportsinc.com/wp-content/uploads/2020/08/ACI-Logo-Text_s-e1598451183583-300x82.png
clickgiant
2021-06-22 13:55:33
2021-06-22 13:55:33
Livestock Barns & Shelters from American Carports, Inc.