Horses are beautiful, powerful animals, but caring for them can be a lot of work. If you own horses and want to make sure they're tended to properly, establishing safe shelter, such as a metal barn, is one of your key responsibilities. Metal buildings offer a long list of performance advantages over wooden structures, and they can make for an excellent home for your horses. Learn more about how a metal horse barn from American Carports, Inc. can serve you.
American Carports, Inc. has a variety of steel barns that are affordable, durable, and fully customizable. Use our Build & Price Tool to explore the many possibilities for your new structure, view a 3D rendering, and receive an instant quote!
Why a Metal Horse Barn?

We know what you're thinking—aren't barns made from wood? Traditionally, barns have been wooden structures, but that's rapidly changing. Given the countless advantages of using metal as a building material rather than wood, more and more horse owners are going in this direction.
These are the key benefits of choosing metal for your new horse barn:
Cost-effective. Everyone knows that owning horses is expensive, so saving anywhere you can is a welcomed relief. Metal horse barns tend to be significantly less expensive than similar structures built with wood.
Easy to customize. There are some limitations in terms of design when you opt for a wood barn, but there are very few restrictions with metal. That's especially true if you order from American Carports, Inc., as we specialize in offering as many customizations as possible to our customers.
Low maintenance. You already have enough to do caring for your horses. You don't need to book up your calendar even further by having to do work on the barn. Metal structures require very little maintenance and can be expected to last for years with minimal upkeep.
Reduce fire danger. Wood barns can become a fire risk, especially late in a hot summer when they're dry and filled with flammable materials. You can greatly reduce your risk of a fire by opting for metal.
The list of metal benefits could go on and on. Other than tradition, there isn't much of an argument to be made for a wooden structure when you see just how many advantages are offered by metal.
Managing Your Horse Barn Effectively
When tasked with a big responsibility like caring for several large animals, it's important to be organized. When you're organized, tasks are less likely to slip through the cracks and you should feel less stressed at the end of each day. While the topic of how to manage a horse barn could easily fill up its own book, the points below touch on some key points:
Create a detailed schedule. This is where it all starts. A detailed accounting of what tasks need to be completed, and who is going to complete them, will make it much easier to keep up with the needs of each horse. Tasks to add to the schedule include feedings, watering, stall cleaning, etc.
Stay ahead of manure. It's important to maintain sanitary conditions in your barn, and nothing will deteriorate conditions faster than manure. Keeping up with this ongoing chore is going to make it less likely that pests will move in, and the space will smell better, as well.
Creating a watering system. Horses drink an incredible amount of water. However, delivering that water to their stalls can be back-breaking work. Consider investing in a system that will automate—or at least partially automate—the task of getting clean water into their buckets.
Store tack separately. Establish a secure space to store tack, whether that's in a separate room within the barn or another nearby building. This will make it easier to maintain the condition of your tack and keep everything organized so you can find it quickly.
Every property is a little different, so you will inevitably need to develop your own workflow based on your needs. Start with solid best practices to care for your animals and gradually adapt as you identify weaknesses in your process.
The American Carports, Inc. Difference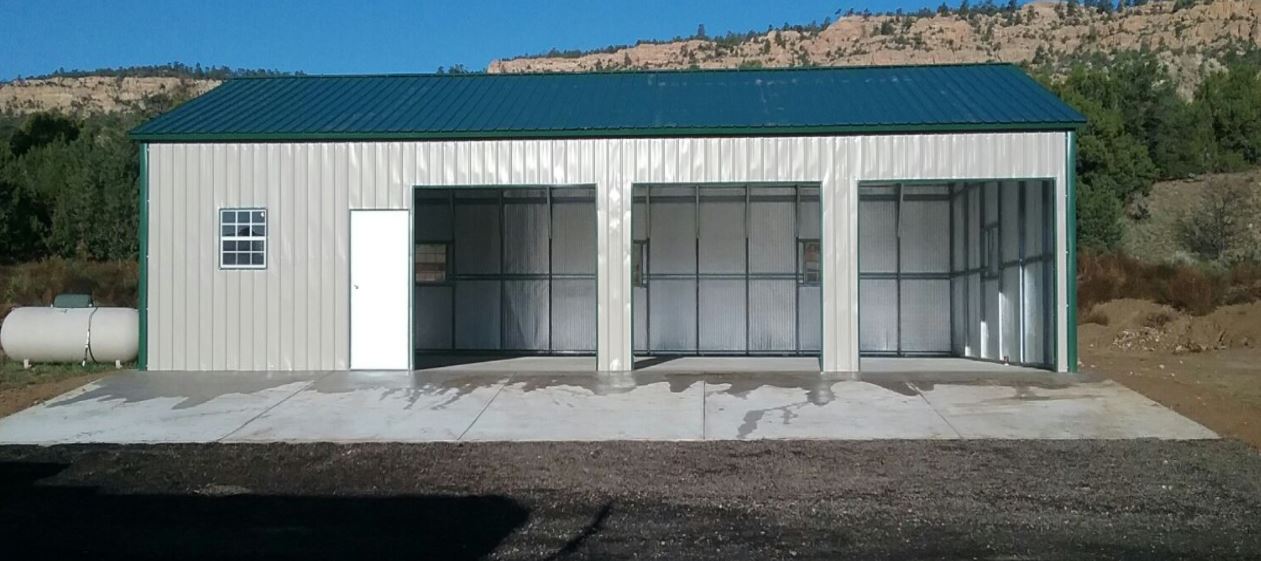 You only want the best for your horses, which means you should only house them in a sturdy, safe, reliable barn. That's why it's smart to invest in a metal horse barn from American Carports, Inc. From the quality components that we use in each project to the outstanding customer service you'll enjoy, we deliver from start to finish. Ready to see what your barn could look like? Try the Build & Price tool and create something perfect for your needs!
https://americancarportsinc.com/wp-content/uploads/2021/03/barn1.jpg
522
1266
clickgiant
https://i1.wp.com/americancarportsinc.com/wp-content/uploads/2020/08/ACI-Logo-Text_s-e1598451183583-300x82.png
clickgiant
2021-03-09 16:29:13
2021-03-09 16:29:13
Metal Horse Barns from American Carports, Inc.