If you have a picnic table on your property or you're planning to purchase one, it's important to have shade for that table. Getting outside is great, but it will be hard to enjoy your meal comfortably if the midday summer sun is beating down on you and your food. With a little shade, you can enjoy the fresh air and atmosphere in far more comfort. Explore these picnic table shade ideas that can assist you.
American Carports, Inc. offers a variety of metal buildings that are affordable, durable, and fully customizable. Use our Build & Price Tool to explore the many possibilities for your new structure, and receive an instant quote!
The Natural Approach
One great way to provide your picnic table with shade is to position it strategically under or near a large tree. If you happen to have a big tree on your property in a location that would be suitable for a picnic table, this natural method of acquiring shade will provide a wonderful setting for lunch or dinner.
Unfortunately, when you start to think more carefully about this option, there are a number of drawbacks to consider. For starters, you might not have a flat spot near the tree that will make for a stable home for the table. Trees are typically surrounded by roots that can leave the ground uneven. Even if you find a spot for the table, those roots could be a trip hazard.
Another issue is that the amount of shade provided by the tree will change throughout the year. As the summer wears on, the angle of the sun will change, and your picnic table may no longer be in the shade. Since you can't move the tree, you will be forced to move the table if you want to get back in the shade once again.
An Umbrella May Work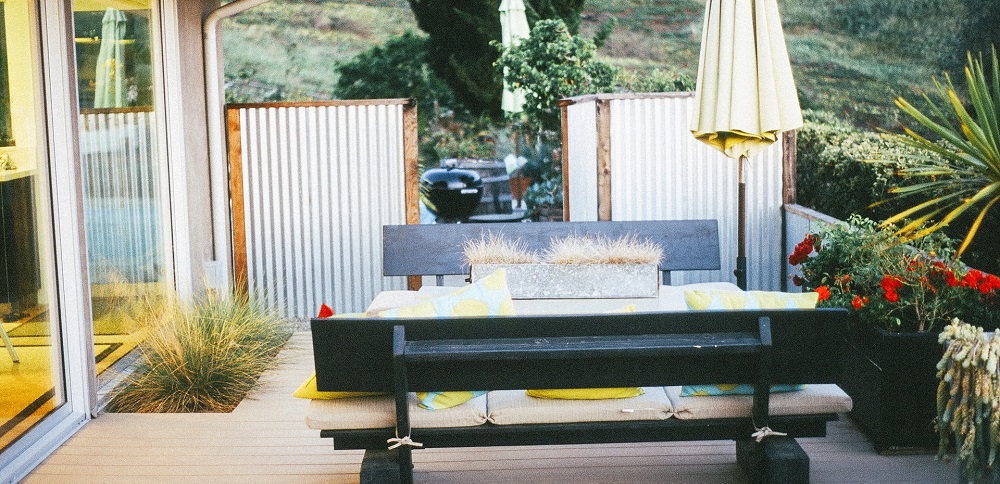 A common solution to the need for shade is a picnic table umbrella. By adding a large umbrella to your setup, either through a hole in the table or in a base somewhere near the table, you can gain protection from the sun. Many of these umbrellas are adjustable so you can tilt them at just the right angle to block out the sun at any time of day, and at any point during the summer. Plus, since you can use your umbrella wherever you need it, you'll be able to pick exactly the right spot on your property for the table to rest.
These kinds of umbrellas offer plenty of advantages, but they aren't a perfect solution. For one thing, they can be quite expensive and may wear down relatively quickly if left out in the elements. Also, while an adjustable model will help you gain the shade you desire, you still have to do the work of manually adjusting the umbrella. If you use your table multiple times a day, that means you may need to move the umbrella around each time, which is an extra little chore that you may get tired of tackling.
Build Your Own Shade
Adding a carport or lean to that can provide shade for your picnic table is the ideal solution to this problem. By using a new metal structure to offer the shade you need for enjoyable picnics, you can get around the various problems highlighted in the two solutions above. With a roof overhead, you should get shade at almost any time throughout the day and year. Also, when ordered from a trusted, quality supplier like American Carports, Inc., you can expect your metal structure to last for many years. That means you'll get great value for your money.
Another big advantage to this option is the flexibility of the new metal building that you will acquire. For example, you may decide that your new carport is perfect for picnics in the spring and summer, but you could move the picnic table out in the winter to make room for a car to park. Whatever you choose to do with this structure throughout the year, it will always have the ability to offer your property more than just shade.
Work With American Carports, Inc.
We hope you enjoyed these picnic table shade ideas! Don't let the good weather in the summer and early fall pass you by without a great setup for your picnic meals. Turn to American Carports, Inc. for a carport or lean to that can offer protection from the sun for an affordable price. We look forward to serving you!
https://americancarportsinc.com/wp-content/uploads/2021/03/cp4.jpg
551
1037
clickgiant
https://i1.wp.com/americancarportsinc.com/wp-content/uploads/2020/08/ACI-Logo-Text_s-e1598451183583-300x82.png
clickgiant
2021-05-24 19:49:26
2021-05-24 19:49:54
Picnic Table Shade Ideas